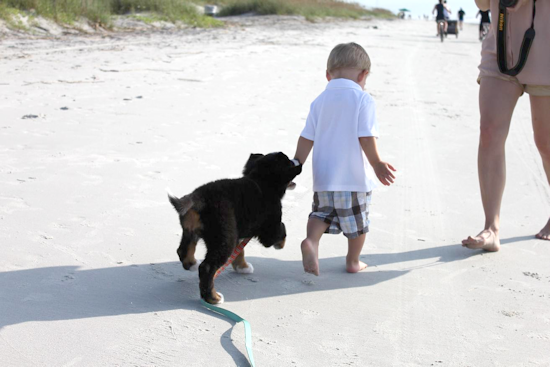 3 John 1:4
"I have no greater joy than to hear that my children are walking in the truth."
We prayed for our children as infants. The prayers flowed out of us like rushing water bubbling up from the depths of our souls. We questioned our capacity to endure the rigors of parenthood: sleepless nights, continuous feedings and mounds of diapers. We marveled that our children survived to their first birthdays and we praised God for His grace to see us through these challenging, but oh so charming, days. "Hear my cry for help, my King and my God, for to you I pray," (Psalm 5:2).
We prayed for them as toddlers. We were convinced that an entourage of angels had been assigned to each of our children while they learned to walk and run. There is no other rationale for the "near misses," those "could have been serious" trips and falls that accompanied their playful antics and fearless capers. "For he will command his angels concerning you to guard you in all your ways," (Psalm 91:1).
We prayed for them as they started school. We asked the Lord to help them choose their friends wisely, to develop a passion for learning and to reveal their God-given gifts. We knew that they would be developing habits in grade school that would have ripple effects into their future and we prayed them through each developmental milestone. "You, my God, have revealed to your servant that you will build a house for him. So your servant has found courage to pray to you," (1 Chronicles 17:25).
We prayed for them through their teen years. Those adolescent years have the ability to derail even the most committed of personalities. Developing bodies, fluctuating hormones, and incipient insecurities represent only a few of the challenges that our children faced during these capricious years. It is in these days that peer relationships overcome common sense and the desire to belong can tempt one to renounce all that he or she once held dear. "Watch and pray so that you will not fall into temptation. The spirit is wiling, but the flesh is weak," (Matthew 26:41).
We prayed for them through their young adult years. We prayed that they would know and understand the love of God and His purpose for their lives. We desired that they walk in truth (3 John 1:4) and we trusted that the foundation that was laid in their youth would come to fruition. "Listen, my son! Listen, son of my womb! Listen, my son, the answer to my prayers!" (Proverbs 31:2).
We knew our days of influence were mostly behind us and our adult children would begin their unique journey into the world. We prayed that they would choose Jesus, "the way and the truth and the life" to chart their course (John 14:6). And our grateful hearts rejoiced when our adult children and their spouses proclaimed, "But as for me and my house, we will serve the Lord," (Joshua 24:15).
---
Father, we come to you to pray and intercede on behalf of our grandchildren. By faith, we thank you for their salvation. With all wisdom and understanding, may you make known to them the mystery of Your will according to Your good pleasure, which You purposed in Christ (Ephesians 1:9). May you make firm their steps as they delight in You (Psalm 37:23). May Christ, by his Spirit, guide each of our grandchildren into all truth, and lead them in the way of righteousness as they walk after the Spirit (Proverbs 8:20). May the Lord direct their hearts into God's love and Christ's perseverance (2 Thessalonians 3:5). Please keep them safe from the traps set by evildoers, from the snares laid for them (Psalm 141:9). May your eyes, O Lord, be on these children and your ears attentive to their cry (Psalm 34:15). May they love you Lord, their God, with all their heart and with all their soul and with all their strength and with all their mind; and may they love their neighbor as themselves (Luke 10:27). May they stand at the crossroads and look; ask for the ancient paths, ask where the good way is, and walk in it, and in so doing find rest for their souls (Jeremiah 6:16). In Jesus' loving name. Amen.
---