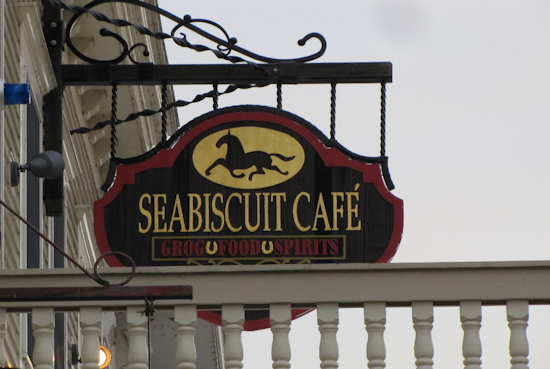 Acts 4:13 When they saw the courage of Peter and John and realized that they were unschooled, ordinary men, they were astonished and took note that these men had been with Jesus.
Located in the charming resort of Mackinac Island, Michigan, is the Seabiscuit Café. Regrettably, our brief time on the island prevented us from enjoying a meal at this local eatery. The restaurant features an appropriate horse theme from the 1938 true story of the famous Thoroughbred racehorse, Seabiscuit. The release of the movie version of Seabiscuit runs continuously on one of the restaurant's four televisions.
As I read the sign outside the café, I was reminded of the 2003 movie. This movie had the capacity to touch hearts in a very profound way as it depicted the life of the unlikely champion racehorse, which became a symbol of hope to many Americans during the Great Depression. Captivated viewers observed Seabiscuit, an improbable victor, rise to fame in this poignant and inspiring film. The undersized Thoroughbred was not considered champion material, but paired with an unorthodox trainer and a troubled but experienced jockey, Seabiscuit excelled against all odds.
This story evoked deep emotions as it reminds us of ourselves. Seabiscuit was not extraordinary by most standards, considered undersized and lazy he had unrealized potential. Had it not been for others who identified his strengths and understood his nature, his untapped possibilities may never have been realized and he might not have moved beyond his perceived limitations to become the champion that he was.
For many of us our lives began in the most ordinary of ways. There was nothing about us that was indicative of promise or substance. Some of us entered the arena of life with impediments and constraints that were difficult to overcome. It is reported that Seabiscuit was "never in the running," but he forged ahead and in 1937 he won eleven of his fifteen races and was the year's leading money winner in the United States.
And so it is with those of us who have met and walked with Jesus Christ. While encouraging the disciples in Matthew 10, Jesus reminds these seemingly ordinary men that their lives are precious and extraordinary and that God's providence extends itself to all creatures. "Do not be afraid of those who kill the body but cannot kill the soul. Rather, be afraid of the One who can destroy both soul and body in hell. Are not two sparrows sold for a penny? Yet not one of them will fall to the ground outside your Father's care. And even the very hairs of your head are all numbered. So don't be afraid; you are worth more than many sparrows," (Matthew 10:28-31). An ordinary and seemingly undistinguished and fruitless life submitted to Jesus can be transformed and engaged in a life full of promise and hope.
The God who created us and completes us is capable of tapping our unrealized gifts and abilities, thereby allowing us to rise above untold obstacles and hindrances to courageously run our race. He alone, who gives the horse its strength and clothes its neck with a flowing mane (Job 39:19), equips his children with strength, considers us trustworthy and appoints us to his service (1 Timothy 1:12). As Seabiscuit finished his race and won the prize, we too, in God's strength, will run our race and with expectant and joy-filled hearts long for the day that we will hear the words of our Master: "Well done, good and faithful servant! You have been faithful with a few things; I will put you in charge of many things. Come and share your master's happiness" (Matthew 25:21).
---
Father God, as we consider your providence and remember that you are our Redeemer — the Lord Almighty — the Holy One of Israel, may we find strength and confidence to run the race set before us. May we never be limited by fear or self-doubt, but surrendered to you as we trust you to order our days and use us as you will for your good purpose. As others observe our lives we pray "all people will fear; they will proclaim the works of God and ponder what he has done (Psalm 64:9)." In His name. Amen.
---