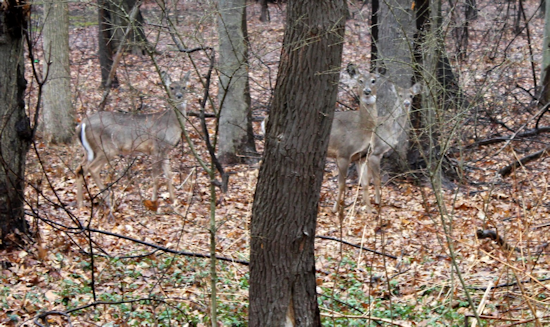 Psalm 18:33
"He makes my feet like the feet of a deer; he causes me to stand on the heights."
For as long as I can remember, fear has been my constant companion. This distressing emotion reached a crescendo and accelerated into full blown panic attacks in the second decade of my life.
Awakened out of a sound sleep at 3 a.m., heart pounding out of my chest, I'd find myself awash in sweat feeling as if I was losing my mind, thinking I was going to die and secretly hoping I would, ending the terrifying experience. This was the condition I found myself in when introduced to Jesus by a loving and compassionate relative.
As I embarked on cultivating a personal and intimate relationship with the Lord, I began to read God's word and came to understand that he did not desire that I live out my days terrorized by fear and anxiety. I prayed that God would guide me away from these deeply entrenched debilitating emotions and help me to learn to live courageously and calmly under his care. It was during this time that he placed a book in my path that would profoundly change my sensitivities and enrich my life.
While reading Hannah Hurnard's allegorical novel, Hinds' Feet on High Places, I thoroughly identified with the novel's main character: Much-Afraid. As the moving story unfolded, I was captivated by Much-Afraid's journey toward God as she changed from a frightened, deformed, lost soul into a beautiful, spiritually connected, joyful being. The book had a life-altering affect on me with parts of the figurative language lingering in my mind throughout the decades of my own spiritual pilgrimage.
The title of Hannah Hurnard's book is from chapter 3 and verse 19 in the Old Testament book, Habakkuk: "The LORD God [is] my strength, and he will make my feet like hinds' [feet], and he will make me to walk upon mine high places" (KJV). Throughout the years of my faith-walk with God, he has used this particular scripture to encourage me and has further fortified me by using the physical presence of deer during moments when I needed to be reminded of his promise.
I have been both humbled and inspired when in the course of extreme anguish, I have cried out to God for deliverance, and in his infinite wisdom and mercy has at that precise moment placed a deer in my path. As I gaze upon the majestic and beautiful animal before me, the scripture symbolizing the sure-footed nature of the deer is brought to my remembrance and my perspective is renewed. I remember that the Chief Shepherd that provided the deer with swiftness of hoof, makes my feet like the deer, gives me firm footing and leads me out of the valley to the High Places.
As God transforms us from the timid and fearful Much-Afraid to a lover of Christ; filled with Grace and Glory, we will endure many trials and tribulations on our journey to our High Places. It is at these times when we are tempted to withdraw from the battle and surrender to fear and defeat, we need to be reminded that God has not given us a spirit of fear; but of power, and of love, and of a sound mind (2 Timothy 1:7).
Theodore Roosevelt is quoted as saying, "It is not the critic who counts: not the man who points out how the strong man stumbles or where the doer of deeds could have done better. The credit belongs to the man who is actually in the arena, whose face is marred by dust and sweat and blood, who strives valiantly, who errs and comes up short again and again, because there is no effort without error or shortcoming, but who knows the great enthusiasms, the great devotions, who spends himself for a worthy cause; who, at the best, knows, in the end, the triumph of high achievement, and who, at the worst, if he fails, at least he fails while daring greatly, so that his place shall never be with those cold and timid souls who knew neither victory nor defeat."
---
Father God, as we make our way with you, our Chief Shepherd, out of the valley up to the High Places, may you strengthen our feeble legs, may you give us feet swift and sure as the deer and may we be filled with your grace and glory as we trust you to lead us safely through the unpredictable and often daunting experiences of life. In the name of Christ, Our Lord. Amen.
---