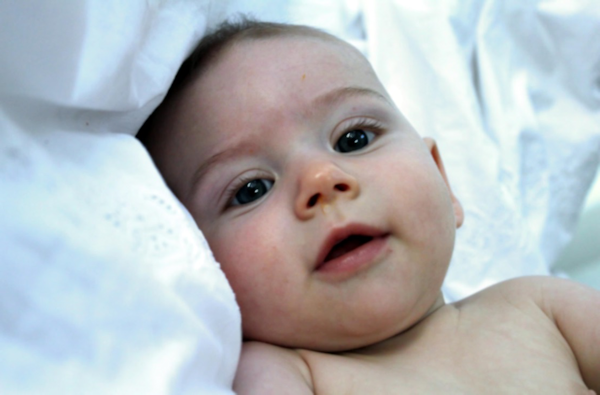 Psalm 116:1
"I love the Lord, for he heard my voice; he heard my cry for mercy."
It is early morning. The room is still darkened by the blanket of night, but ribbons of light will soon appear through the curtained windows. He awakens slowly, his stirrings becoming increasingly audible as he greets the new day. He begins his morning conversing with his fingers and toes. Inspecting his hands, he talks to them, tastes them and then talks some more. His parents, sleeping nearby, hear the unintelligible chatter of their first born and are stirred from slumber. They lay listening in rapt attention to their sweet baby's voice.
Morning is the best time of day. It's when the Little Man loves to talk. His parents, longing for much-needed rest succumb to the urge to join the conversation. Making their way into the nursery, they are captivated by the murmurings of their infant and enthralled by the sound of his voice, and the verbal nuances that give expression to his wants and needs.
It's easy to think about the heart of God during such an encounter. Just as the infant's parents interpret the needs of their wordless child, so too does God interpret the needs of His children. During those times when we are unable to articulate our needs to God, He hears and understands us. Romans 8:26 reads, "The Spirit helps us in our weakness. We do not know what we ought to pray, but the Spirit himself intercedes for us with groans that words cannot express."
There will be times in life when we will be rendered powerless to pray as we should. We find ourselves so burdened and raw with pain that we are unable to purge our troubled hearts. It is at precisely those times that our Heavenly Father through His Spirit, assisted by his continual presence, speaks on our behalf, prays when we are subdued by desolate situations and impenetrable circumstances.
Just as the infant depends on his loving parents to mercifully meet his needs, so should we, as children of God, come to our Father with the expectation that He will also meet our needs.
It is at those times, when bereft and inconsolable, we are raised up that God's power might be displayed in us and that His name might be proclaimed in all the earth. We are tempted to believe that we are abandoned, we are not heard and that we are alone in our travails. But God, in His mercy, cannot forsake his own and we know that in all things God works for the good of those who love him, who have been called according to his purpose (Romans 8:28). Because of the Lord's great love we are not consumed, for his compassions never fail. They are new every morning; great is His faithfulness (Lamentations 3:22,23). So we are ever thankful that He meets our needs, and hears our cries for mercy.
---
Father God, we thank you that during those times that life, in this fallen world, takes its inevitable toll on us, we have the blessed assurance that you hear our voice and hear our cries for mercy. We thank you for your Holy Spirit and His power to speak on our behalf. We praise you that His continual presence is your gift to us, your promised Comforter. We thank you that you hear our voice and respond in love and grace to our cries for mercy. In the name of Jesus. Amen.
---