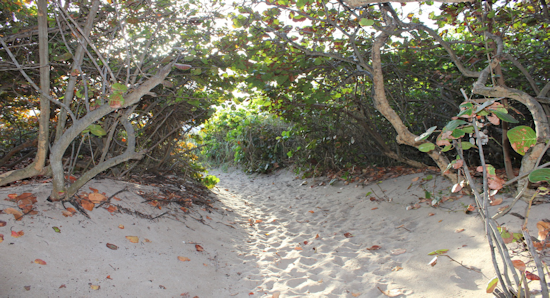 Psalm 16:11
"You make known to me the path of life; you will fill me with joy in your presence, with eternal pleasures at your right hand."
The path was small, shrouded by halophytic foliage. A tangled canopy was created by the foliage obscuring the view of the vast ocean and never-ending blue sky. A trail sliced through the soft marble-white sand and footprints marked the way to the beach. The halophytic corridors served to keep one on the narrow way until at once the vast ocean appeared and unfolded like a fan.
The path reminds me of the pilgrim's journey with Christ. God's footprints can be followed through the reading of His Word. We trace His steps and observe the inmost thoughts, attitudes and actions of His heart. The blueprint for life is revealed to us if we are inclined to follow it. We observe how He walked and what He experienced along the path to Golgotha and we thank Him for His sacrifice because we know our lives are rich because He suffered much. His path led to our salvation, difficult as it was, and He never wavered. We have hope, because we have His example to follow. He has not left us alone and wanting as we navigate our way through this life.
The path reminds me of the footprints of the saints, lovers of Christ who have been blessed with a pleasant journey. These righteous souls have been given much but through their bounty they have unassumingly enriched the lives of others and heeded the counsel of the Psalmist when he wrote, "Though your riches increase, do not set your heart on them." These benevolent saints share their time, talent and treasure so lavishly that they forever change the quality of life for others and in so doing, have imitated Christ in their selflessness.
The path reminds me of the footprints of the saints, who through no fault of their own, have been afflicted with unspeakable hardships and burdens. Some through disease, some through gross injustices perpetrated against them and some through difficulties that come as a result of living in a fallen world. The footprints of these saints show us how to live under dire and desperate circumstances. They show us how to live as overcomers when there seems to be no earthly reason for joy. This bitter path, laden with seemingly insurmountable tests, is sweetened by the salty tears of the overcomers and we are encouraged to press on toward the prize set before us. The saints on this path are imitators of Christ in their perseverance.
We are convicted by the beauty of this path and the myriad of footprints that had left their impression there. We ponder the path of our lives and contemplate our own footprints. What is the sojourn of my life teaching others? Is anybody following me and if they are, where am I leading them and what have they learned from me? Where am I going and do I want others to follow?
---
Father God, You have given us an example to follow through your life, death and resurrection. Your footprints have given clear guidance for our life's journey. May the footprints that we leave serve to guide others into the path of righteousness and may the example that we set lead others to Christ and the abundant life that comes as a result of loving Him. In Jesus' name. Amen.
---