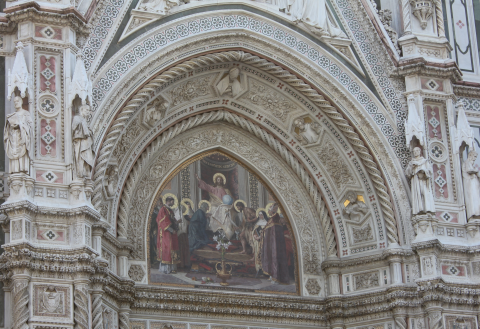 Matthew 26:40, 41
Then he returned to his disciples and found them sleeping. "Couldn't you men keep watch with me for one hour?" he asked Peter. "Watch and pray so that you will not fall into temptation. The spirit is willing, but the flesh is weak."
Gethsemane is a garden at the foot of the Mount of Olives in Jerusalem, most famous as the place where Jesus prayed and his disciples slept the night before Jesus' crucifixion.
It is in Gethsemane that the depth of Jesus' distress is recorded.  Speaking to three of his disciples Jesus says, "My soul is overwhelmed with sorrow to the point of death.  Stay here and keep watch with me."  Anticipating his crucifixion and overwhelmed with sorrow, Jesus bears his soul and solicits the support of those in his inner circle.  Jesus leaves to pray and upon his return, finds the disciples asleep.  It is during Jesus' darkest hour that those closest to him have succumbed to an unconscious state.  We see the contrasting responses of our Lord and the disciples; Jesus is anguished and prayerful while the disciples succumb to sleep.  Instead of berating the men for their failure, Jesus tenderly instructs them saying, "Watch and pray so that you will not fall into temptation.  The spirit is willing but the flesh is weak."
He is instructing them for he knows the path they must trod.  It has been said that watchfulness sees temptation coming and prayer gives strength to withstand it.  Jesus sees that man's desire to exercise nobility often ends in futility.  He graciously provides the antidote to failure; watch and pray.  The missive from our Lord is one of vigilance.  We must understand Satan's schemes, our own fleshly desires and the world system.  These three formidable foes assault our will and prey upon the weaknesses of our humanity to override our best intentions to love and serve God.  The disciple's sincerest efforts to loyally support the One they loved, often ended in disgrace.  Peter's thrice denial of Jesus serves as a grim reminder of best intentions gone awry.
The incomparable manifestation of God's love, his faithfulness and the supreme sacrifice he made on behalf of mankind, reveals God's heart toward us.  Our fitting response is to wake up from our slumber, vigilantly, soberly and prayerfully commit ourselves to Jesus and trust Him to give us strength to withstand the onslaughts of the world, our flesh and the devil.  We can "keep watch" with Jesus by living free from habitual sin (1 John 3:6) and being aware of His divine presence within our life (1 John 4:13).  We "keep watch" with Jesus when we recognize that it is the life of God within us that enables us to overcome.  We depend not on ourselves, but his activity within us.  We watch and pray.
---
Father God, thank you for dying that we might have life. You tell us in John 10:10, 'The thief comes only to steal and kill and destroy; I have come that they may have life, and have it to the full.'  We want to be vigilant, to be watchful and aware of the enemies of our soul that seek to render us ineffective for Jesus.  May Your Spirit guide and instruct us in righteousness and may we prayerfully trust you to give us the mind of Christ as we await your imminent return.  We desire our best intentions be empowered by Your Spirit, lest our sincere efforts be overruled by the forces that feed our carnality.  In Jesus' name.  Amen.
---